---
---
Demonstrating the Highest Level of Corporate Functions
A declaration that as an organization conducting economic activities in pursuit of profits continuously and systematically, we are improving our abilities and technologies and promoting business through responsible behavior. In addition, the company's highest priority is to contribute to society in any way possible, and we are determined to do our utmost to that end.

Act as a Whole Company
Word advocating the president and all company employees working together. When all of our employees work with their mind as one, a strong bond is formed and becomes the foundation of Aicello's prosperity. And although the meeting with people in Aicello itself can be a coincidence, it is no exaggeration to say that there was some kind of connection there. That is when a bond is formed at Aicello.

Make a Positive Contribution to Society through Corporate Activity
We declare that as a company that manufactures goods, we will contribute to improving culture and lifestyles, in addition to serving the country.
This is where Three Principles of Aicello were born.
1970 was the year we stood and think from the start for everything.
It was a year of hardships, when a new Aicello was born from the crossroads of life and death.
Manufacturing of cellophane—our primary product on which we pinned our dreams since our foundation—was suspended, and sales fell by 50%. We determined that it was impossible to completely erase the pollution caused by our production of cellophane with our technology at the time and voluntarily closed our factory in order to solve the growing issue of pollution.
What is a company? What is management? What is a company's responsibility to its customers? What is a product's responsibility?
During that predicament, we believed that the goal of a company was not to pursue profits, and everything started from "fulfilling the true role to the customers" and "how we can fulfill it."
That was when the three principles were born.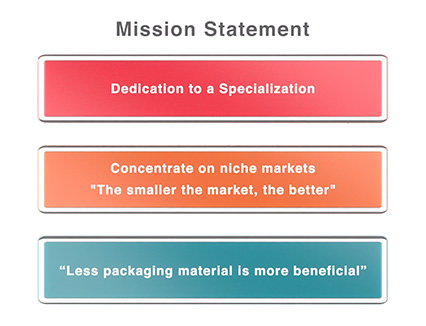 Dedication to a Specialization
"Dedication to a specialization" is a way for an employee to pursue success in a specialty by showing strong will and dedication to a craft.
This is Aicello's philosophy on personnel development - hoping that each employee will grow, become a leader in their field, and shine during the right moment.
Concentrate on niche markets, "The smaller the market, the better"
In order to make a positive contribution to society, we should focus on smaller markets, which present us with greater opportunities. We aim to use our abilities and explore new markets and strive to become the industry leader in not just Japan, but the entire world.
Anyone can enter an area with a larger market, but the competition over the market share is intense. Still, the competition brings more benefits for larger players. What can Aicello do to emerge victorious, considering the size of the company? Then we came up with the idea that, the smaller the market, the better, a reverse thinking. Using our technological capabilities and creativity, we target smaller markets that large companies cannot enter where we create products full of originality that make customers very happy, even if they are a few. For that reason, it is essential to have endless creativity and youthful energy.
"Less packaging material is more beneficial"
The environment can't be sold. We work earnestly at all times, our highest priority being to never harm society no matter what age it is. In order to reach this goal, we will focus on the basics and provide products, systems, and services that are truly beneficial to society.
Packaging is thrown away eventually. It is better not to, when possible, or to fulfill the smallest necessary roles, such as protecting products or providing peace of mind. This is Aicello's basic principle on packaging. In all of our corporate activities and product development, we begin with this principle and think about what is truly necessary from scratch with the hopes of creating products that are truly useful to the world.
Aicello has a risk management committee comprised of the directors and executive officers.
It is a system to ensure that the business continues and develops in a stable manner by putting in place appropriate measures against various risks including economic loss, interruption or suspension of business, damage to the company's credibility or brand image, and anything that prevents the company from fulfilling its management policy, company philosophy, or management strategies.