---
The starting point of Aicello's manufacturing is serving societies and satisfying customers. By listening to and sincerely responding to the true needs of customers, we evolve Aicello's technologies (Aicello Technology ) and create products full of originality.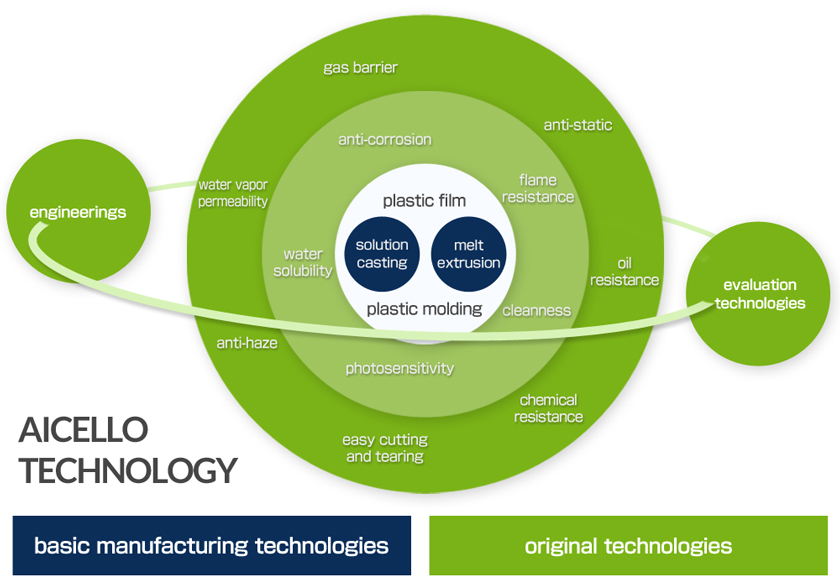 Aicello's basic manufacturing technologies consist of the two technologies, solution casting technology derived from cellophane manufacturing which serves as Aicello's roots, and melt extrusion technology to mold thermoplastic resin, in other words, technologies for melting resin and creating films and molded objects. In addition, Aicello has also developed its own original technologies including those for adding functions such as anti-corrosion, cleanness, water-solubility, photosensitivity, flame resistance, and characteristics such as gas barrier properties, chemical resistance, oil resistance, antistatic properties, moisture permeability, easy cutting and tearing properties, and anti-haze properties, evaluation technologies for products, and engineering.
With Aicello Technology, which combines these basic technologies and original technologies, we have met the needs of many customers up until now through the provision of Aicello's unique products in a wide range of fields.
Evolving Aicello Technology
The Source is Being Accessible
Aicello Technology has grown and evolved by always responding to the needs of customers.
The source of its evolution is being accessible by our working together as partners. We continue developing Aicello Technology as we take on the challenge of creating products full of originality by listening to the voices of customers, working together with many partners, and utilizing facilities that support development in the field.